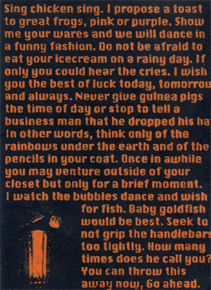 (we're all garbled on the inside, but I swear it means something -- pick me up and keep me or throw me away like all the rest)
It's pretty simple; I have to friend you before you can read my journal. Comment to be added (I won't notice you've added me unless you comment).
Only a couple rules-
1)
Tolerance. If you don't agree with me, that's fine. You can even try to dissuade me about something. But don't be a jackass about it.
2)
Grammar. I'm not asking for perfection. Just not netspeak. An occasional fanspazzy post is fine, but don't expect me to read a serious post written in netspeak.
Other than that? I'm always happy to have a new friend. Come in, look around, add me, comment, and you're in. xP